Students usually ask in our sessions, "Why should I read Bhagavad Gita?" "Is Bhagwad Gita beneficial for me?"
So, one day my friends and I sat down and we wrote more than 110 reasons why reading Bhagavad Gita is important for us. Later we classified these reasons into several categories which we are presenting in this series of blog.
When we discussed, me and friends realised that all around the world, everywhere the experts are referring to Bhagavad Gita. For example :
Professionals including engineers, scientists such as  Robert Oppenheimer , Albert Einstein have referred to principles mentioned in Bhagavad Gita.
Famous Youtubers, such as Vivek Mittal (FitTuber)
Prominent Actors such as Ayushmann Khurrana, Will Smith and others.
Experts in the domain of personality development say Dr. Vivek Bindra, Sandeep Maheshwari , Gaur Gopal Das and others,
So naturally Bhagavd Gita is beneficial for us, let's see how.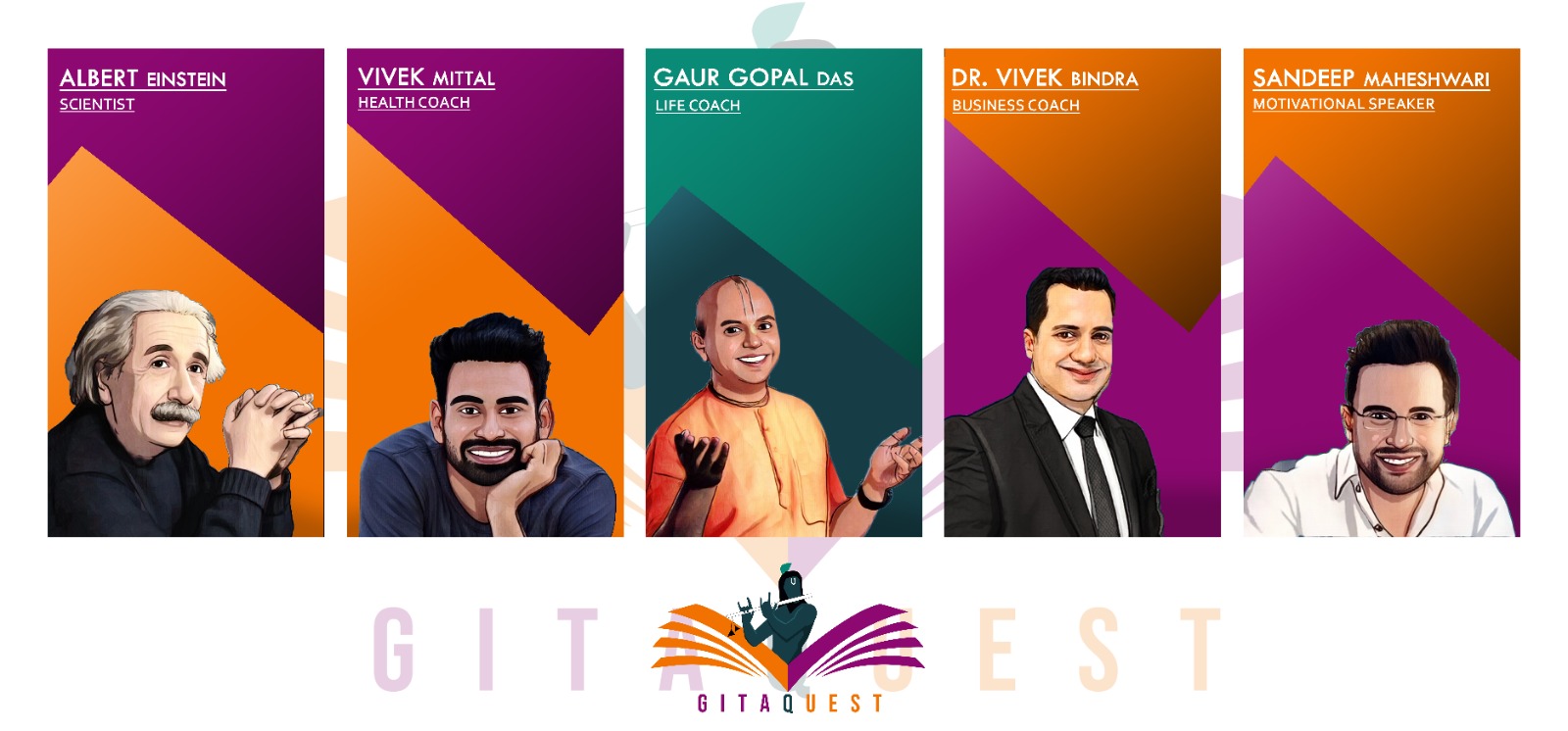 Bhagavad Gita gives Us Edge in this Competitive World
If we read Bhagavad Gita then it will provide number of advantages for this competition world.
In this world, everyone wants themselves at acme, so everyone is preparing for numbers of Competitive exam like JEE Mains , CAT , UPSC , AIIMS and many others. But there are many factors because of which we fail to crack the exams, Gita can help us in overcoming those challenges for example :
Envious Nature
The problem arises when we stop our growth and put the energy in destroying someone rather than improving our own growth. There is a misconception that we only move forward by letting someone down. This misconception will break when we will read Bhagavad-Gita.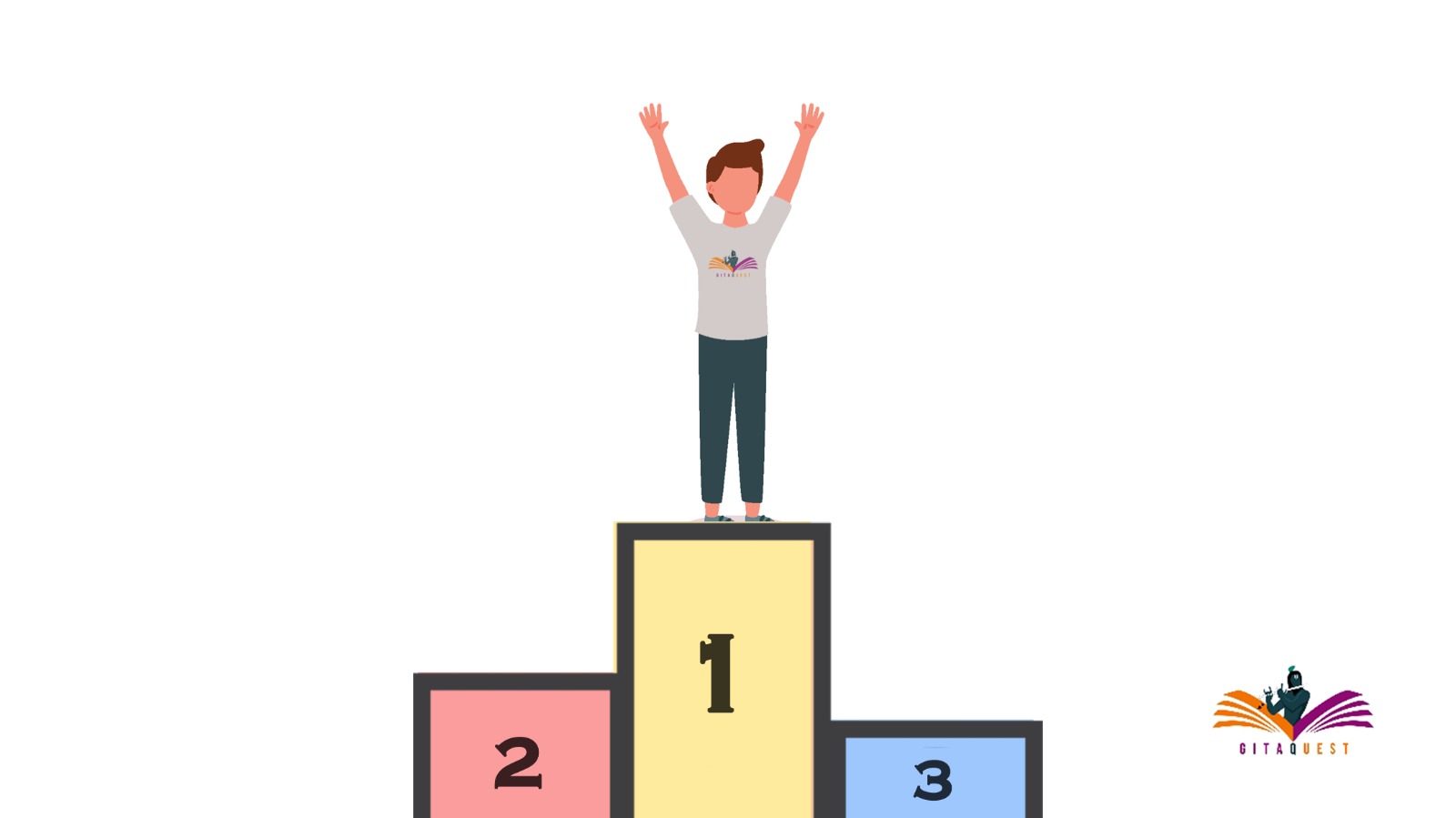 For example, say I want to get good marks in Jee Exam, so one way is I can damage studies of my class friends, but this will not help, because students from other colleges are also going to exam. So instead if we study nicely then we can without fear, that some one will defeat me, without this fear we can score very nice in Jee Exam.
For this a very good example in MahaBharata, Arjuna worked on his skills rather than destroying others.
Thus, we can observe growth in our positive mind-set and personality and there by feel more confident.
Knowledge of Gita Keeps us enthusiastic
Lacking in excitement,  interest,  energy leads to bad result in any performance especially in exams. In the race of life, we need to show great enthusiasm for obtaining the best results.
Again going to our example, in the battle of Kurukshetra, Krishna motivated Arjuna when he was depressed, by giving him number of inspiring instructions.
Similarly, If we read Bhagavad-Gita regularly, even for 5 minutes a day, we will surely find deep inspiration that will sustain very long. That we can use in boring projects , boring exam preparations.
Control mind and reduce the distraction
The Bhagavad Gita shows the importance of focusing on one's duty and purpose in life, rather than getting distracted by external factors. This can help in developing inner focus and determination.
Generally, due to social media, notifications, etc , we tend to waste our lot of time, because of diversion of our mind's attention.
The Bhagavad-gita gives us timeless meditation techniques, using which we can train our mind. Thus even though mind will try to cheat us , but we will become strong enough to reject the temptations from mind. This will help us focus more on things that really matter to us.
Provides Spiritual Enjoyment without distracting us from the Goals
As we are busy preparing for our Competitive exams, every one naturally needs a break.
And our break can become really powerful if we turn that to spiritual one.
As a break, many people like to meditate for few minutes, do prayers, sing Gita shlokas, learn Gita shlokas, this brings us out from the heavy rush of preparation while strengthening our inner self and our self esteem.
In Bhagavad-Gita Lord Krishna teaches the importance of being dutiful, sincere and genuine in our attempts. When we read Gita in our breaks, naturally we will become inspired to study more sincerely in our next sitting.
Increases Quantity Of Focus
In this age when people spends their days entirely in YouTube shorts or Instagram Reels , resulting that , a lot of people find it hard to focus their minds on anything for a long time.
You know now even a Goldfish has longer duration of focus than a human being. Goldfish can focus for 7 seconds, but a average human lacks attention for even 3 seconds of time. We are really in problem.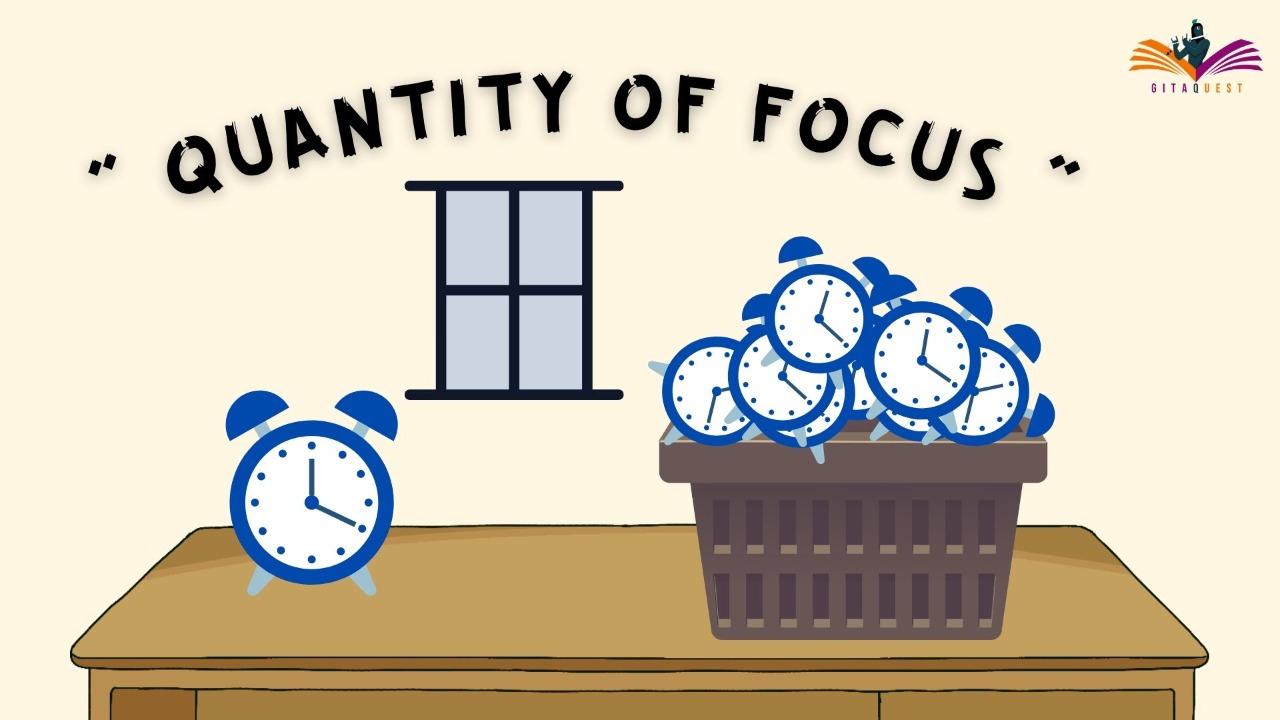 Students are unable to focus on their studies, working professionals on their work and so on. But the solution to this problem comes in Bhagavad Gita where the Lord states in Chapter 6 sloka 35
असंशयं महाबाहो मनो दुर्निग्रहं चलम् ।
अभ्यासेन तु कौन्तेय वैराग्येण च गृह्यते ॥ BG 06.35 ॥
O mighty-armed son of Kuntī, it is undoubtedly very difficult to curb the restless mind, but it is possible by suitable practice and by detachment.
So what Krishna gives as solution ? Solution has two parts :
First step is Practise : We have to practise to being our mind back when it diverts, best method is meditation.
Second Step is Detachment : we need to give up day dreaming, and get on to real work.
Increases Quality Of Focus :
Not only in quantity but it has practically been proved that Bhagavad Gita also helps in improving the quality of our focus.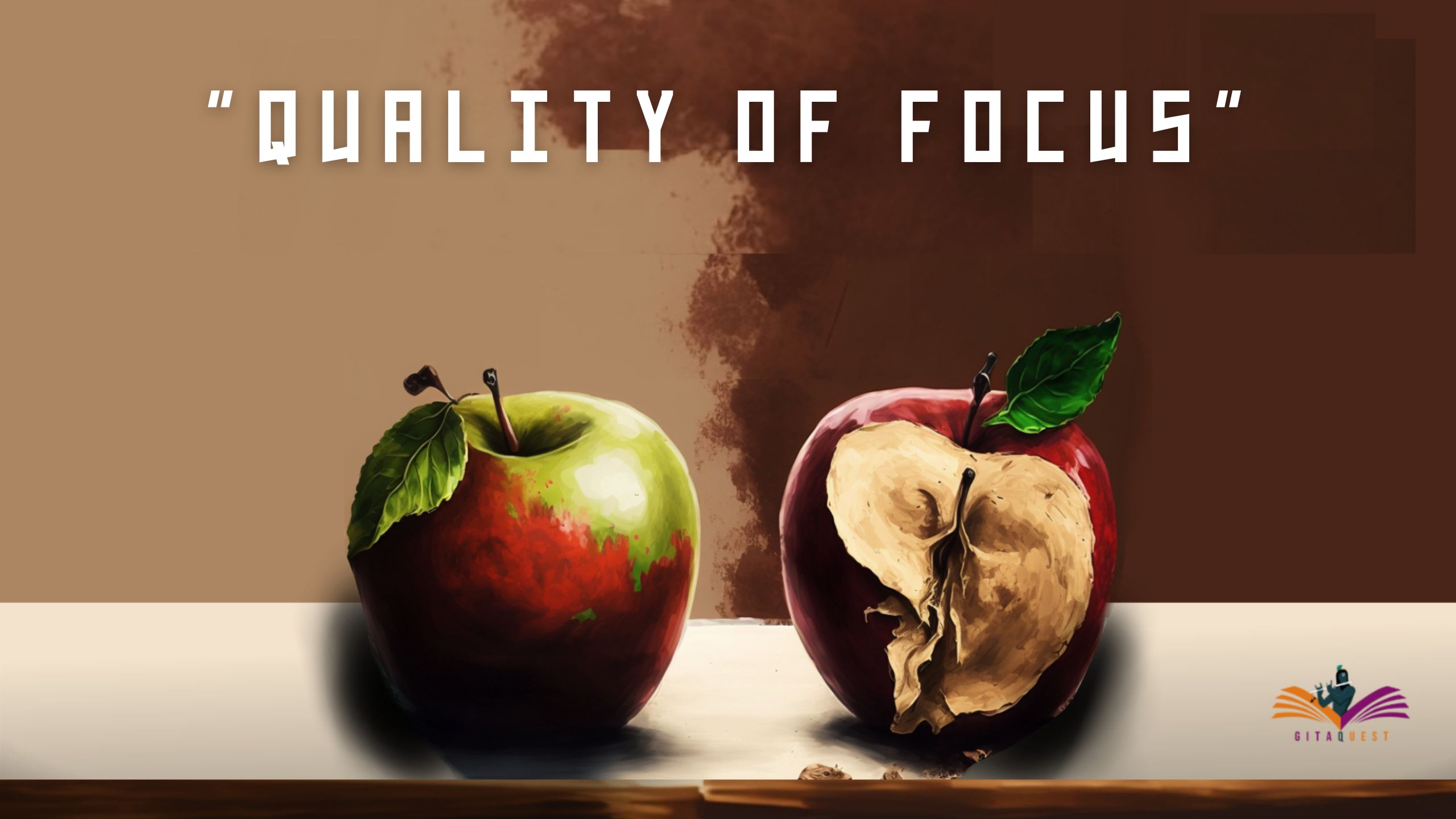 By Quality of focus we mean that by giving same time for working we obtain more results than other person, say you sit for 3 hours for studying and your friends sits for also 3 hours. Those who practise meditation and learning Gita shlokas will be able to study more in those 3 hours as compared to their friends.
Therefore it is of no wonder that many successful engineers, students, doctors and IT personnels have accepted in their testimonials that after reading Bhagavad Gita their thought process was transformed and they could concentrate their minds better in their works.
Increase memory and concentration
The Bhagavad Gita teaches number of principles and practices that can help in developing mental clarity , memory and concentration, which lead to improve one's ability to recall information.
And ability to recall facts, will become master weapon for students going to give exams requiring Current Affairs.
Lord Krishna says "One who has discipline over the mind, who has made the mind one-pointed and tranquil, is able to attain the supreme happiness." (BG 02.64)
The spiritual practices mentioned in the Bhagavad Gita can also contribute to overall mental and emotional well-being, which can in turn improve memory and concentration.
Conclusion
Thus Gita is surely relevant for students and working alike. Each and every youth must read Gita to help them improve their qualities, save a lots of time, connect with inner self and lead a happy and blissful life.
If you need help in Reading Gita then you can register for our Free Gita Course.